IV Bar Therapy in Henderson, NV
IV Bar in Henderson, NV
IV bars offer a variety of intravenous fluids, vitamins, minerals, electrolytes, and medications to treat various illnesses, eliminate nutrient deficiencies, cleanse the body, and enhance energy levels. At Sunset Hills Med Spa, Andrea Warburton MSPHS, PA-C can develop a personalized IV vitamin therapy strategy that is customized to your specific needs. To strengthen the immune system and combat tiredness, contact us today or visit us online to book an appointment. We are conveniently located at 2510 Wigwam Parkway, Suite A-102, Henderson, NV 89074.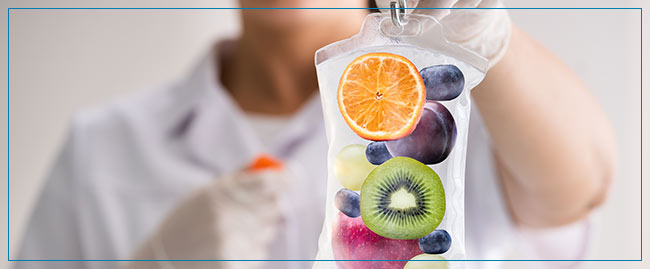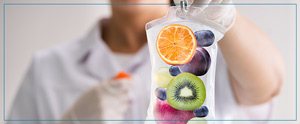 Table of Contents:
What is IV bar therapy?
Are IV bars good for you?
What Can I Get at an IV Bar?
How often should you go to an IV bar?
IV bars have grown in popularity, offering a convenient and effective way to boost the nutrient levels in the body for an overall higher level of health. Through IV therapy, vitamins, minerals, and electrolytes can be delivered intravenously into the body for immediate hydration and relief. This intravenous approach delivers nutrients directly into your bloodstream, allowing better rates of absorption and for nutrients to reach different areas in the body more quickly.
At Sunset Hills Medspa, our talented team of experienced professionals will design your IV therapy with your unique needs at the forefront. If you're wondering if IV therapy is the right choice for you or would like to book in to see one of our specialists, contact us today – we're happy to answer any questions that you may have.
What is IV bar therapy?

IV bar therapy offers patients access to numerous types of intravenous fluids, vitamins, minerals, and electrolytes that are targeted to their unique needs. In this process, a trained medical technician inserts an IV drip to provide patients with the nutrients they need to overcome certain conditions. This includes, but is not limited to, hangovers, fatigue, flu symptoms, jet lag, and dehydration.

Nutrients supplied via IV are delivered more quickly to the organs and tissue in the body and are also more readily absorbable.
Are IV bars good for you?

IV bars offer one of the most efficient and safe ways to improve your energy, immunity, and overall sense of health. They replenish your body with the vitamins, amino acids, antioxidants, and electrolytes that it needs to thrive.

With IV bar therapy, 80%-100% of the nutrients from your IV are able to be utilized by the body. This is significantly better rate of absorption than oral supplements which lay in the 40%-60% range. By bypassing the digestive system, IV therapy allows for vitamins and minerals to be absorbed more readily and more completely for better overall health.
What Can I Get at an IV Bar?

The IV fluid that you receive at an IV bar will be customized to treat your unique symptoms and conditions. Your personalized IV may include nutrients such as:

B vitamins: Helps to boost the immune system, maintain cardiovascular health, and generate energy.
Vitamin B12: Essential for forming red blood cells and boosting brain function.
Vitamin C: Helps antioxidants to regenerate, boosts immune response, and prevents premature aging.
Magnesium: Regulates blood pressure and helps create DNA and RNA.
Glutathione: Helps prevent degenerative diseases and premature aging.
NSAIDs: Used to help manage inflammation and pain, particularly after surgery.
Zinc: Bolsters a healthy immune system and helps wounds heal.

IV bars will also mix various vitamins, minerals, and electrolytes as needed to help alleviate symptoms of various ailments. This includes dehydration, hangovers, allergies, and a wide variety of other as well illnesses and diseases. IV therapy is also excellent choice for anyone that has difficulty getting the nutrition they need orally.
How often should you go to an IV bar?

The frequency of your IV therapy visits will depend on your individual needs, goals, and reasons for receiving treatment in the first place. Many people opt to receive IV therapy to treat specific symptoms or to fill the nutritional gaps that certain dietary choices or medical conditions have created.

In situations where IV therapy is being used to encourage overall wellness, one treatment every two weeks is considered ideal and adequate. In contrast, those with a health condition may benefit from weekly specialized nutrient IV drips.

It's always best to talk to your primary health practitioner before undergoing any type of IV therapy for the treatment of a medical condition. They will provide medical insight, instruction, and substantiation for increased IV therapy frequency should they determine it to be a suitable option.

If you're considering IV therapy, or would like more information about it before committing to an appointment, contact our specialists at Sunset Hills Medspa today.

Our team of dedicated, certified, and experienced staff would be happy to guide you towards a treatment option that you feel comfortable and confident with or schedule an appointment online. We are conveniently located at 2510 Wigwam Parkway, Suite A-102, Henderson, NV 89074. We serve clients from Henderson NV, Paradise Hills NV, Midway NV, Gibson Springs NV, Las Vegas NV, Boulder City NV,Winchester NV,