PDO Thread Lift Specialist in Henderson, NV
Are you looking for the latest non-surgical facelift procedures? At Sunset Hills Med Spa,

Andrea Warburton MSPHS, PA-C

offers PDO thread lift that provides natural results without invasive surgery. During this procedure, a dissolvable suture is used to encourage the synthesis of collagen and make your skin tighten. PDO thread lift can be used in different areas of the face including cheeks, jaw, neck, and eyes. To rejuvenate and lift the sagging skin, Contact us today or schedule an appointment online. We are conveniently located at 2510 Wigwam Parkway, Suite A-102, Henderson, NV 89074.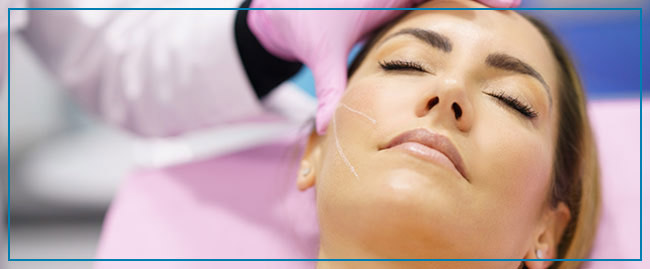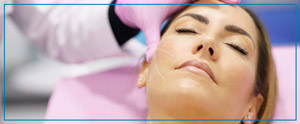 Table of Contents:
What are PDO thread lifts?
How long does a PDO thread lift last?
Is a thread lift painful?
What are the benefits of PDO thread lift?
If you are looking for a top-rated alternative that is non-surgical for your facelift or sagging skin, a PDO thread lift is the option to go with. It is a less expensive and faster alternative to facelift surgery and offers incredibly natural results. Recovery from a PDO thread lift is minimal and often possible to return to work the same day depending on each individual.
Sunset hill Med Spa is passionate about the outcome and effects that the MINT PDO thread lift offers. She is trained to offer MINT PDO thread lift and is experienced in the PDO thread field. This innovative treatment offers a surgery-free alternative to tightening sagging skin, creating a firmer, brighter, and younger look which is gentle on the skin.
What are PDO thread lifts?

At Sunset Hills Med Spa we offer the latest in PDO Thread lift procedures. We pride ourselves in offering high-quality non-surgical PDO thread lift services to our clients. At Sunset Hills Med Spa we use the MINT PDO Thread lift which stands for Minimally Invasive Non-surgical thread.

This minimally invasive procedure for PDO thread lift uses dissolvable sutures to tighten and lift your skin. This procedure was created as a less invasive procedure than the facelift surgery many have done previously. Our less invasive procedure offers the ability to have similar results without going under a scalpel to achieve them.

PDO thread lifts use biodegradable sutures to help rejuvenate your skin but offer a lifted and more natural younger looking skin.
How long does a PDO thread lift last?

A PDO thread lift leaves the face with a firmer, tighter and more youthful appearance. This procedure is often referred to as a thread lift. MINT PDO Thread lift offers many benefits including the procedure itself taking on average 45 minutes to 90 minutes to complete. Our clients will see immediate results once the procedure is completed and the results can last up to 1 year after the procedure.

Once you start coming up to your 1 year after your first appointment, it's recommended to reach out to Sunset Hills Med Spa and re-book for another PDO thread lift appointment to continue seeing your beautiful results.
Is a thread lift painful?

PDO thread lifts were specially designed with a thin needle used to insert the threads into your skin to help minimize any discomfort. Your recovery was kept in mind when this non-surgical procedure was created, and as such, your recovery is minimal after. Some clients may experience mild soreness and/or swelling for a few days after the procedure, but it is easily managed with over-the-counter pain relievers. The longest your discomfort may occur is usually within the first 24-48 hours following your procedure.
What are the benefits of PDO thread lift?

MINT PDO thread lift procedures offer immediate results without the wait, and is a great alternative to a facelift. This non-surgical procedure is great for clients who want a natural lifted, youthful and radiate look. The results that are commonly achieved with MINT PDO thread lift include:

– Contoured cheekbones
– Alluring cat eye look
– A defined jawline
– Smooths smile lines
– Offers softer eyebrows; and
– Smooths necklines

MINT PDO thread lift at Sunset Hills Med Spa offers many benefits including long-lasting results of up to 1 year (and longer), little to no downtime after the procedure, minimal to no visible scarring, no incision necessary making this procedure non-surgical, ability to treat several areas of the face and body, can be repeated as necessary to achieve the look you are trying to acquire, helps to soften sagging, folding or even hollowing in your face, helps to soften the jowls that run along the jawline and is an excellent alternative to going under the scalpel for a facelift.

PDO thread lift works as well if you are looking at getting other procedures such as laser, injectables, fillers etc. The threads used in the PDO thread lift are utilized for deep lines and offer the ability to create an overall youthful appearance on your face and body.

Interested in how a PDO thread lift could benefit you? Call us today to book your consultation appointment. We are located at 2510 Wigwam Parkway, Suite A-102, Henderson, NV 89074. We serve clients from Henderson NV, Midway NV, Gibson Springs NV, Las Vegas NV, Boulder City NV, Paradise Hills NV, Winchester NV and surrounding areas.