Semaglutide Injection for Medical Weight Loss in Henderson, NV
To reduce excess body weight, control blood sugar, and eliminate other health-related problems? Andrea Warburton MSPHS, PA-C provides semaglutide injections to manage weight-related problems. Semaglutide works on the pancreas to release the right amount of insulin when blood sugar is high. Insulin moves sugar to the body tissue and uses it as energy. Semaglutide is used together with diet and exercise to reduce the feeling of hunger by slowing down the digestion process. For more information, contact us today or book an appointment. We are located at 2510 Wigwam Parkway, Suite A-102, Henderson, NV 89074.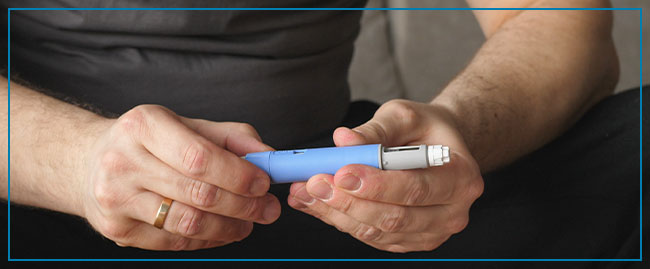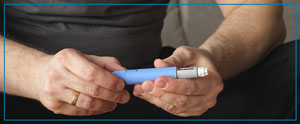 Table of Contents:
What does semaglutide do to your body?
How long does semaglutide take to work?
Who qualifies for Semaglutide injections for weight loss?
How much does semaglutide cost per month?
What does semaglutide do to your body?

Semaglutide is a medication which has been used since 2021 to treat patients with a high BMI and weight-related medical concerns. The medication affects many different parts of the body, such as:

The GI tract: Semaglutide affects the gastrointestinal tract by slowing down gastric motility, decreasing acid production and increasing intestinal mucus production. By doing so, Semaglutide prolongs the feeling of fullness after eating.

The pancreas: Semaglutide affects insulin production and insulin sensitivity, which are major functions of the pancreas. As the medication increases the production and sensitivity of insulin, the body can move excess sugar out of the bloodstream more effectively.

The brain: The part of the brain that is responsible for controlling hunger is the hypothalamus. As Semaglutide interacts with the hypothalamus, it impacts food preference, food-reward pathways and feelings of fullness.

The liver: The liver can synthesize sugar through a process known as gluconeogenesis. Semaglutide reduces gluconeogenesis, resulting in less sugar in the bloodstream.

The metabolism: Semaglutide breaks down stored fat, promoting fat oxidation, which has a positive impact on the metabolism. Carbohydrates are typically the body's first choice for energy because they are simple to digest. Semaglutide promotes weight loss by increasing the use of body fat for energy.
How long does semaglutide take to work?

Semaglutide works very quickly, though it doesn't cause weight loss overnight. According to a study that appeared in The New England Journal of Medicine, Semaglutide users lost more than 2% of their body weight in just 4 weeks. Throughout the 68-week study, this weight loss persisted, and the patients lost an average of 14.9% of their body weight by the end of the evaluation.

Every patient is unique, and your ability to lose weight will depend on a variety of factors, including your genetics, your exercise habits, and everything in between. Overall, Semaglutide has been shown to consistently aid patients in losing weight in a matter of weeks.
Who qualifies for Semaglutide injections for weight loss?

Semaglutide injections are used in conjunction with a weight loss plan and work by controlling appetite and minimizing food cravings. This medication helps people who struggle with their weight to eat less and lose weight quickly.

The following groups qualify for Semaglutide injections for weight loss:

– Adults with a BMI of 27 or higher, who also have at least one condition associated with excess weight, such as type 2 diabetes, hypertension, or high cholesterol.
– Adults who are obese, which is defined as having a BMI of 30 or higher.
– Individuals who have tried several other weight loss techniques but did not see significant results, such as diet and exercise programmes.

It is important to align with additional criteria to be a good fit for Semaglutide treatment. Semaglutide can be a weight loss treatment for you if:

– You are prepared to work with a healthcare professional to create a weight loss plan and are dedicated to making lifestyle changes.
– You don't have a history of thyroid cancer or pancreatitis.
– You don't have a personal or family history of multiple endocrine neoplasia syndrome type 2 (MEN 2) or medullary thyroid carcinoma (MTC).
– You aren't pregnant or breastfeeding.

To determine if Semaglutide injections are the right option for you, it's advised to consult a specialist as there are several factors to take into account.
How much does semaglutide cost per month?

For a typical dose of 1.0 mg, Semaglutide usually costs between $800 and $1400 per month. As with most prescription medications, the estimated price can vary. As the price is significant, it is important to consider your insurance coverage. Many insurance plans partially cover the cost of Semaglutide injections. Therefore, it is highly urged to contact your insurance provider to learn more about the coverage possibilities and establish what you will need to pay out-of-pocket.

Furthermore, keep in mind that treatment with Semaglutide injections should be used alongside a thorough weight loss programme that will include behavior therapy, dietary and exercise changes, and close medical supervision. These components of the weight loss treatment may incur additional costs to the price of Semaglutide. For more information, contact us or schedule an appointment online. We are located at 2510 Wigwam Parkway, Suite A-102, Henderson, NV 89074. We serve clients from Henderson NV, Gibson Springs NV, Midway NV, Winchester NV, Las Vegas NV, Boulder City NV, Paradise Hills NV, and surrounding areas.