What Makes Us Look Older?
The signs of aging are inevitable, but they don't have to be permanent thanks to anti-aging treatments available at Sunset Hills Medspa. For more information on our anti-aging treatments, contact us or schedule an appointment online.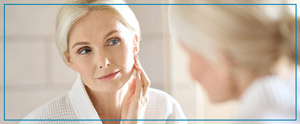 Table of Contents:
What features make us look older?
Do you offer any treatments to help us look younger?
When should you start getting treatments to look younger?
What features make us look older?

A person's face is one of the first parts of the body to show signs of aging. While every skin is different, age-related changes to the skin, muscles, and structure of the face are inevitable due to gravity, photo-damage, and the passage of time. A youthful face appears plump, contoured and defined. The pyramid of age is what happens as we age as these features slowly change.

When the skin on your eyelids loosens with age, it creates a hooded appearance. A person's skin loses elastin and collagen as they age, which provide strength and integrity. As muscles stretch over time, opening the eyes fully becomes difficult. The cause of dyschromia, or brown splotchy sunspots, is DNA damage and sun exposure. The hair follicles of your eyebrows will be damaged by aggressive tweezing and waxing over the years, preventing regrowth. However, genetics are most responsible for your thinning brows. It will get worse if you are deficient in biotin and iron, or if you have hypothyroidism.

A dry, loose, papery skin texture is a result of sun damage, which accounts for 90% of premature skin aging. When collagen and elastin are lost, the skin becomes brittle; dead skin cells are less quickly replaced, causing dullness; there is less oil production and greater moisture loss; plus acne scarring-aging skin is no longer smooth and bright. It's not lack of sleep causing dark circles under the eye. During the aging process, blood vessels under the eyes become more visible due to loss of fat volume and thinning skin.

A "double chin" results from fat gathering under the chin, low collagen and elastin levels, and sagging neck muscles, which cause the skin to fall. Our cheeks tend to become flat as we age, our smile lines become more prominent, and we develop jowls along the jawline as our ligaments loosen.
Do you offer any treatments to help us look younger?

Today, it is not necessary to undergo surgery in order to look years younger. You can feel confident in your own skin and look your best with a number of non-surgical procedures. A medical spa can provide a range of treatments to reduce wrinkles and tighten your skin.

Your satisfaction is our top priority at Sunset Hills Med Spa. We are dedicated to focusing on your specific needs and providing high-quality treatments. We offer Botox, skin tightening, body contouring, anti-aging treatments, and more for men and women.

Many treatments are available at Sunset Hills Medspa and our staff of professionals will help match each patient with the perfect procedure to realize their beauty goals.
When should you start getting treatments to look younger?

Maintaining a youthful glow begins with being vigilant with your skincare routine at a young age. While a quality skincare regimen can do wonders for nurturing your skin, non-invasive cosmetic treatments can be an effective way to maintain radiant and healthy skin well into your 40s, 50s, and beyond. When you establish healthy skin at a young age, you can avoid or resolve the common skin imperfections that result from sun exposure, aging, acne, and other environmental factors.

It is the best time to establish healthy skin care habits in your 20s. In order to make skin look younger and healthier, preventative treatments can be used to prevent future skin problems and corrective treatments can be used to reduce or eliminate existing skin concerns. Your skin is likely to become dull, prone to acne, and have unwanted hair during your 20s.

When it comes to when to begin anti-aging treatments each individual and individual treatment is different. However, the earlier the better is a general rule for most cosmetic treatments.

Anti-aging treatments are available at Sunset Hills Medspa. We serve clients from Henderson NV, Gibson Springs NV, Boulder City NV, Las Vegas NV, Paradise Hills NV, Midway NV, and Winchester NV.